Home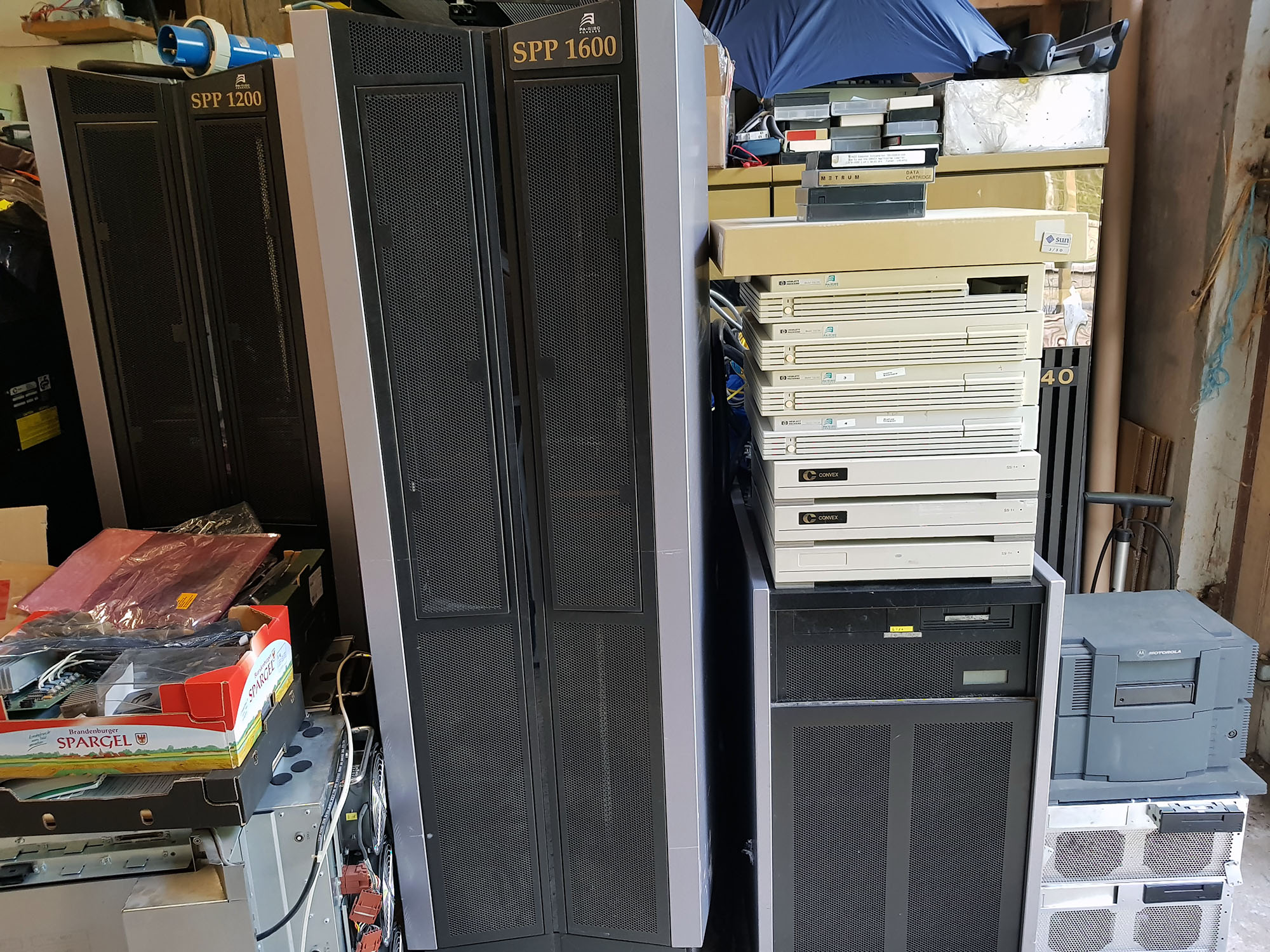 On Friday, the 11th of May 2018, my friend Andreas drove over from eastern Germany to deliver some Convex SPP supercomputers for the Convex Computer Collection. 
Details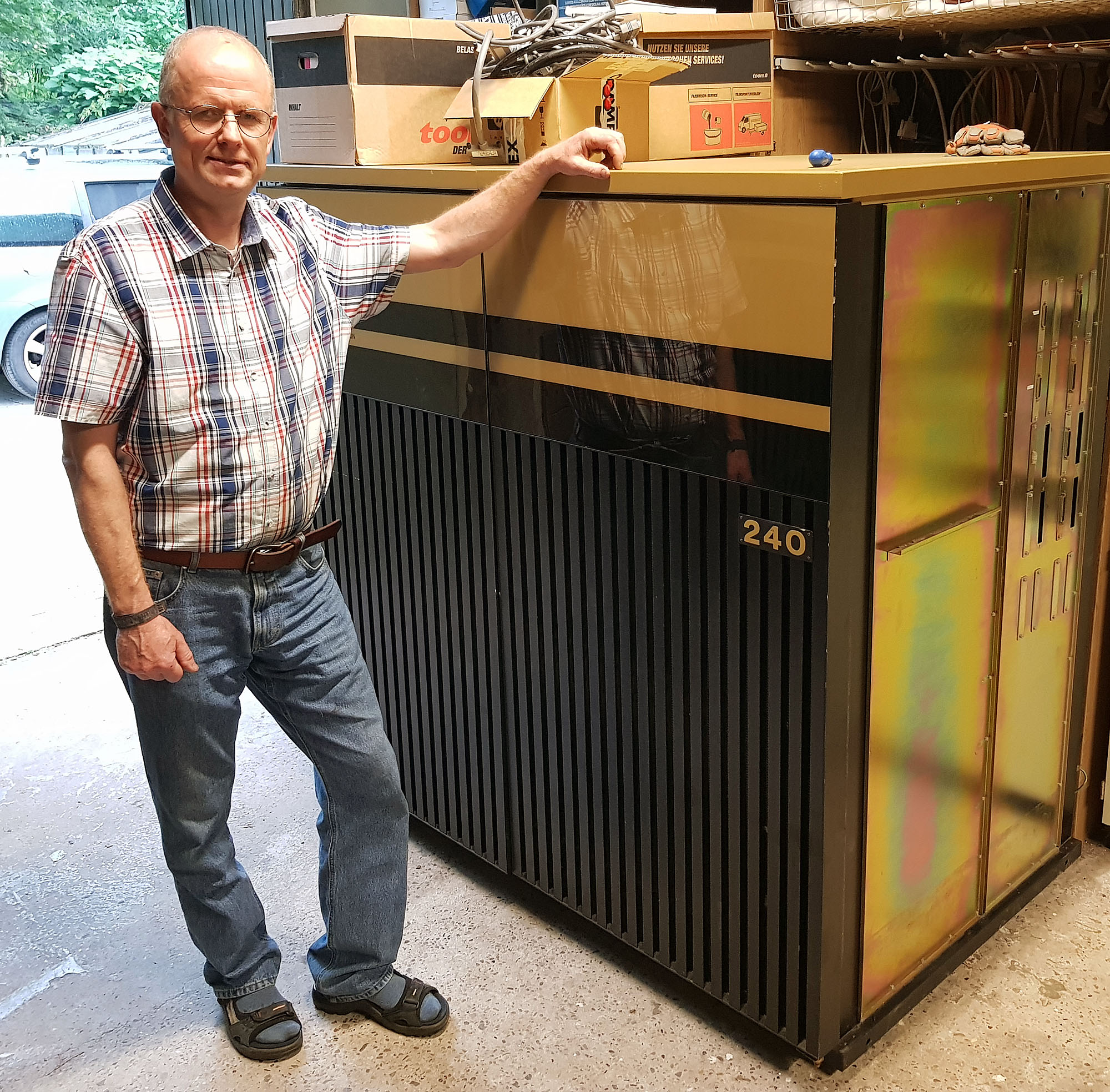 Last Tuesday, Andreas, a friend from Germany, arrived to deliver the Convex C240. Along with the C240 came all the I/O cabinets and devices for the Convex C220, as well as a lot of spare parts (boards, PSU's, drives).
Details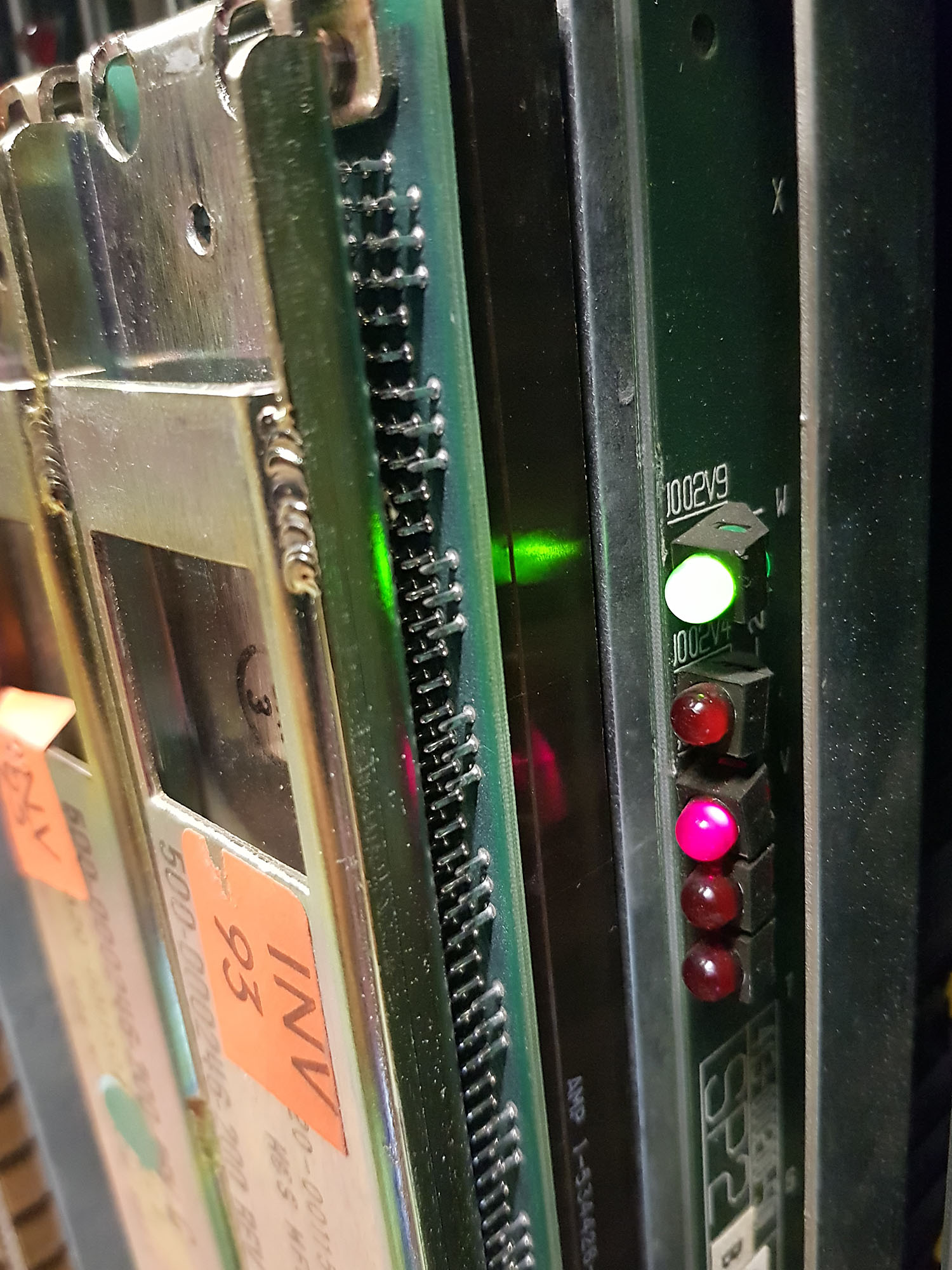 After the Arrival of the Convex C220, I took some time over the course of a few days to figure out exactly what I got, and run some diagnostics. Even though none of the peripherals are here yet (they'll arrive in a few weeks, along with the Convex C240), there are plenty of things I can do before then.
Details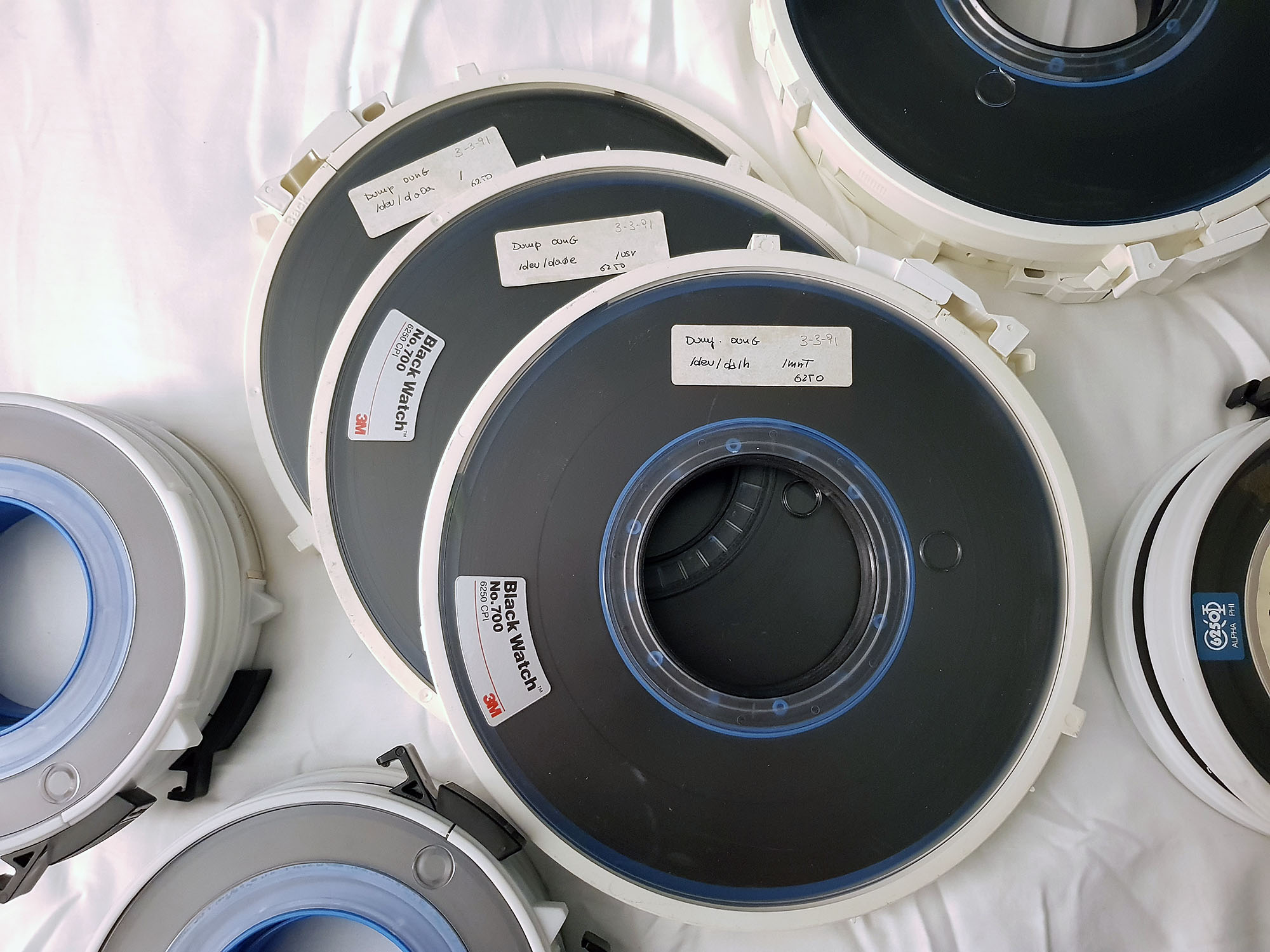 When I got to my office in the US yesterday, there was a pleasant surprise waiting for me. The generous donor of the Convex C1 XP had found another box of tapes he once used with the machine. He did not recall what was on these tapes, but had them sent to my office.
Details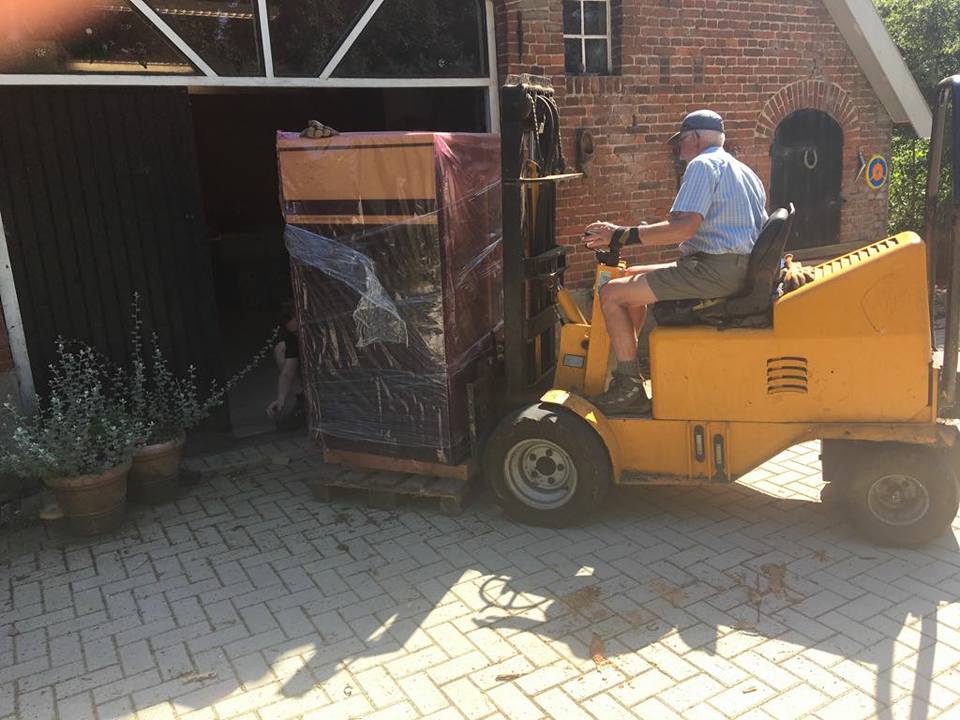 About a week ago, the Convex C220 arrived, this is the first part of the Convex C2 Shipment (the Convex C240 will follow three weeks from now). This first shipment consisted of the C220 cpu cabinet, a couple of empty cabinets, some spare parts, some software tapes, and a lot of documentation.
Details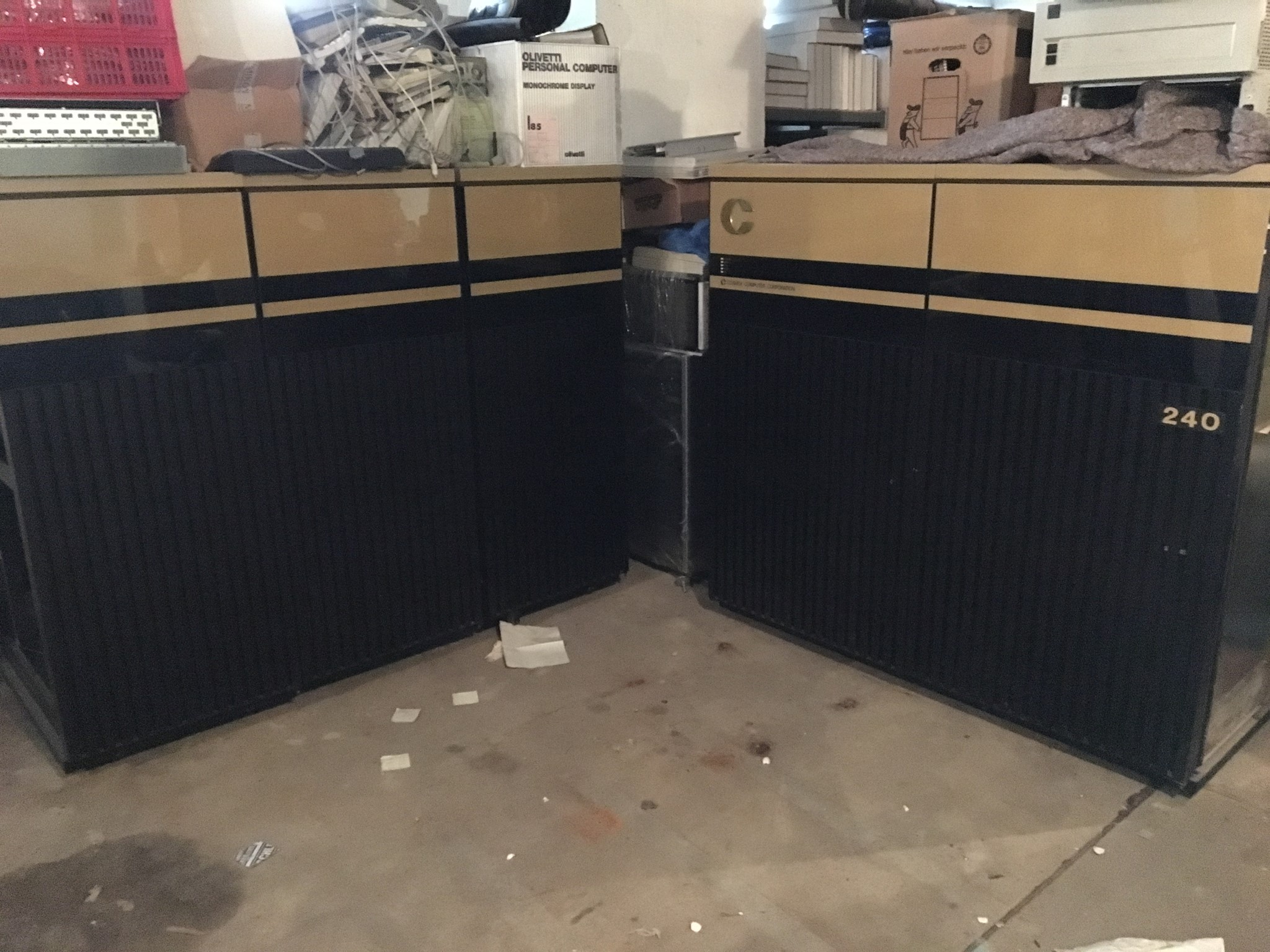 After I got my Convex C1 Supercomputers, I've been contacted by people offering Convex systems and parts to me. Today, I've come to an agreement to acquire a couple of Convex C2 Supercomputers.
Details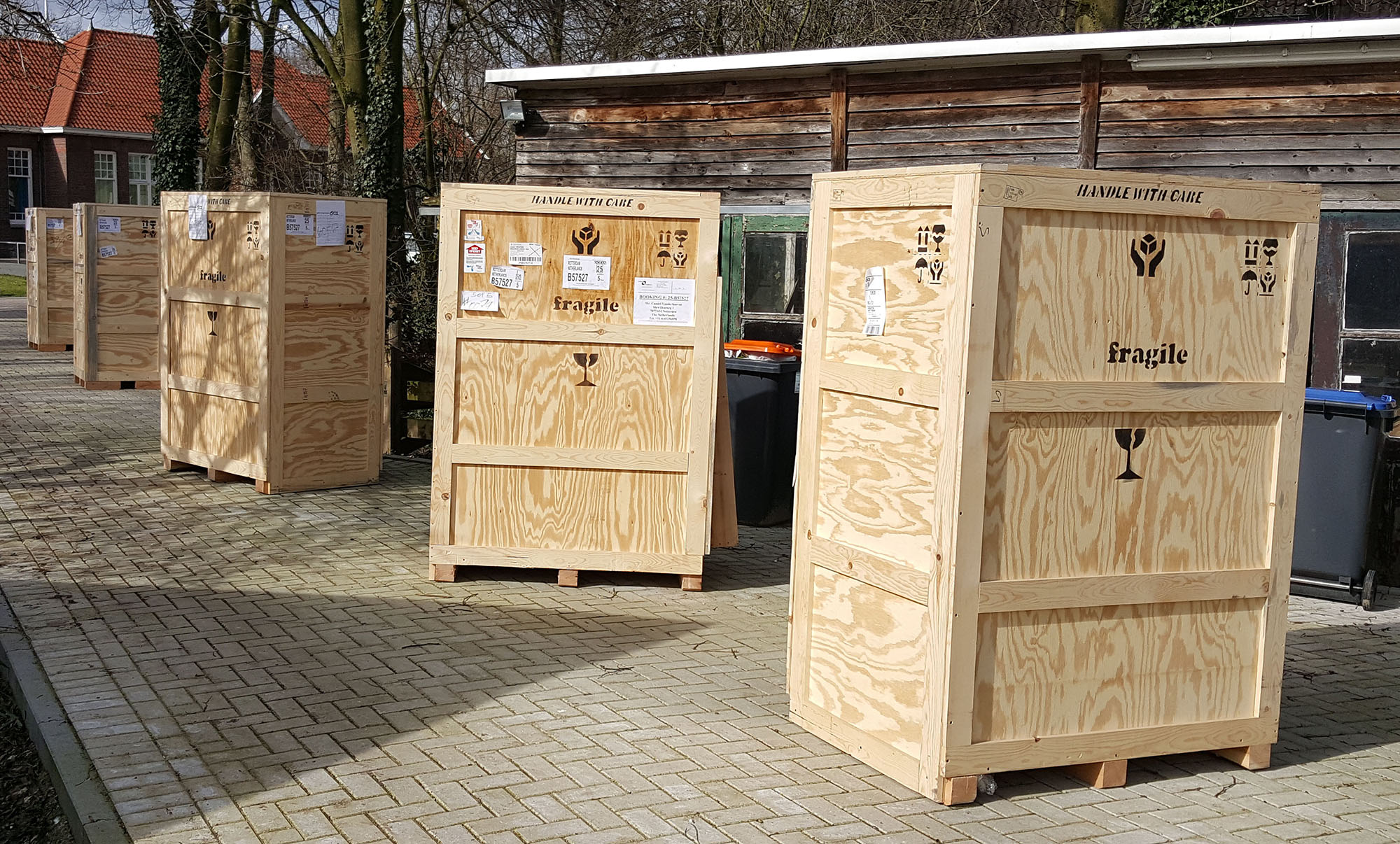 After a long journey, the supercomputers that were donated to me by a US professor have finally arrived on Dutch soil, and are now safely inside the barn. On Friday the 10th of March, around 2:30 pm, the truck showed up, and unloaded five large crates; about 4 hours later, I had all the cabinets and parts inside (with a little help from my father).
Details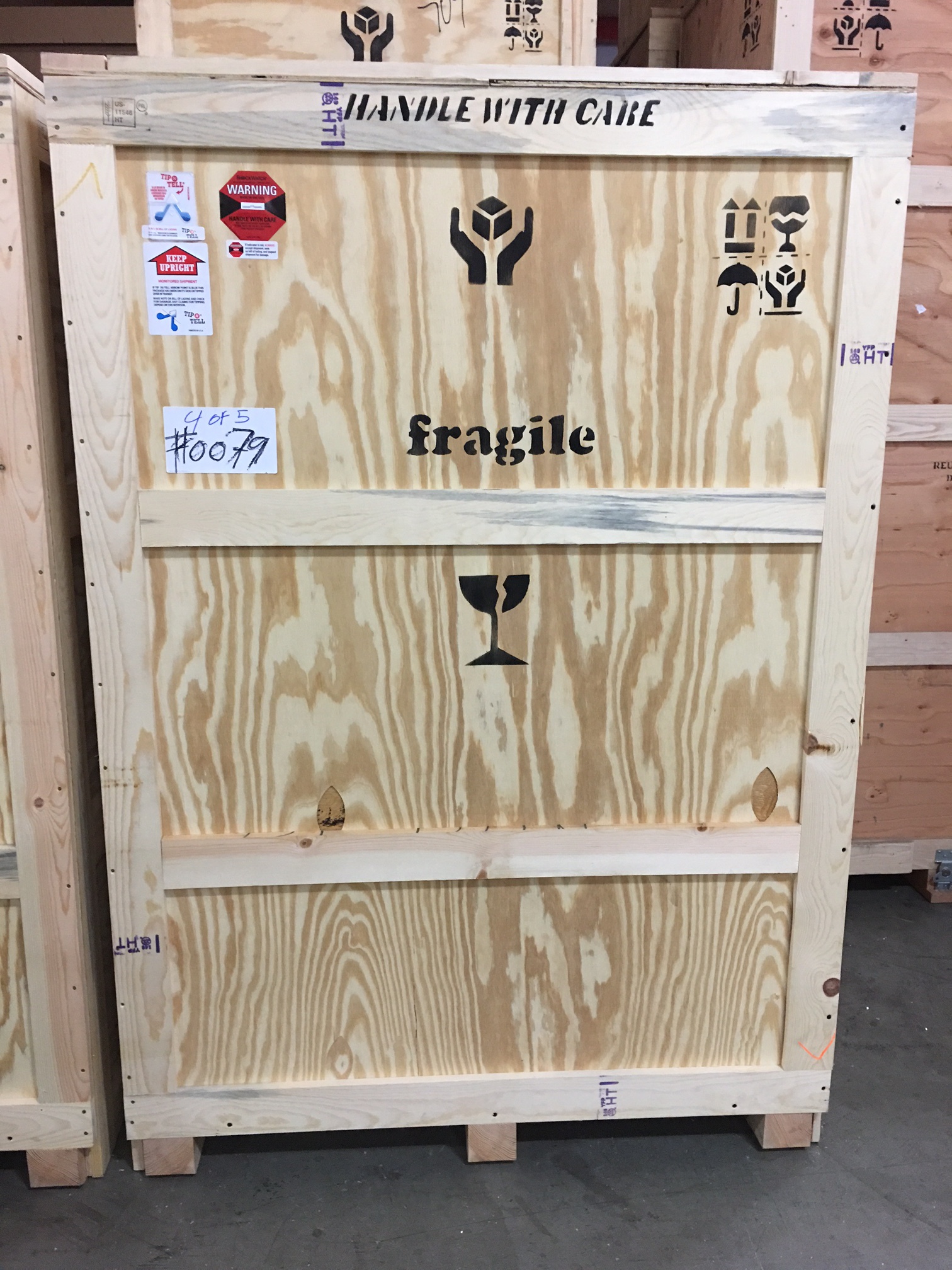 The Four Supercomputers have been crated up, and are ready to be shipped! About a month to go...
Details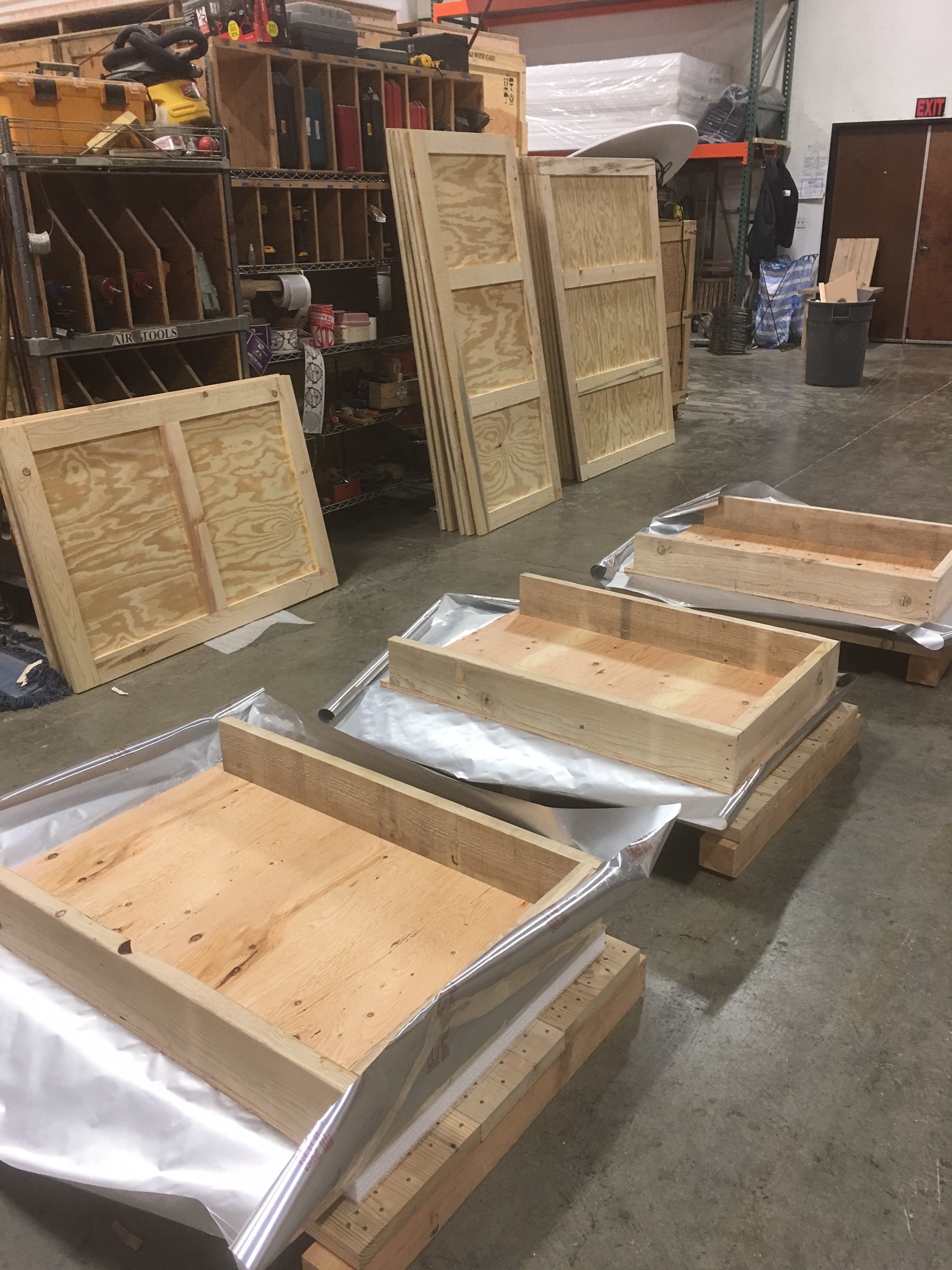 Crates for the supercomputers (Four Supercomputers) are being made! The shipping company is enjoying a christmas/newyear break, and in January they'll crate up the computers.
Details
One of the things I've been looking for for a long time is a laptop with an Alpha processor. Tadpole made these in the mid-1990s, and they are exceedingly rare.
Last Tuesday, I delivered a presentation in Paris for the French OpenVMS User Group, about VMS Software's future plans for the OpenVMS operating system. At the occasion one of the HPE employees present gave me a large, old Compaq laptop bag.
Details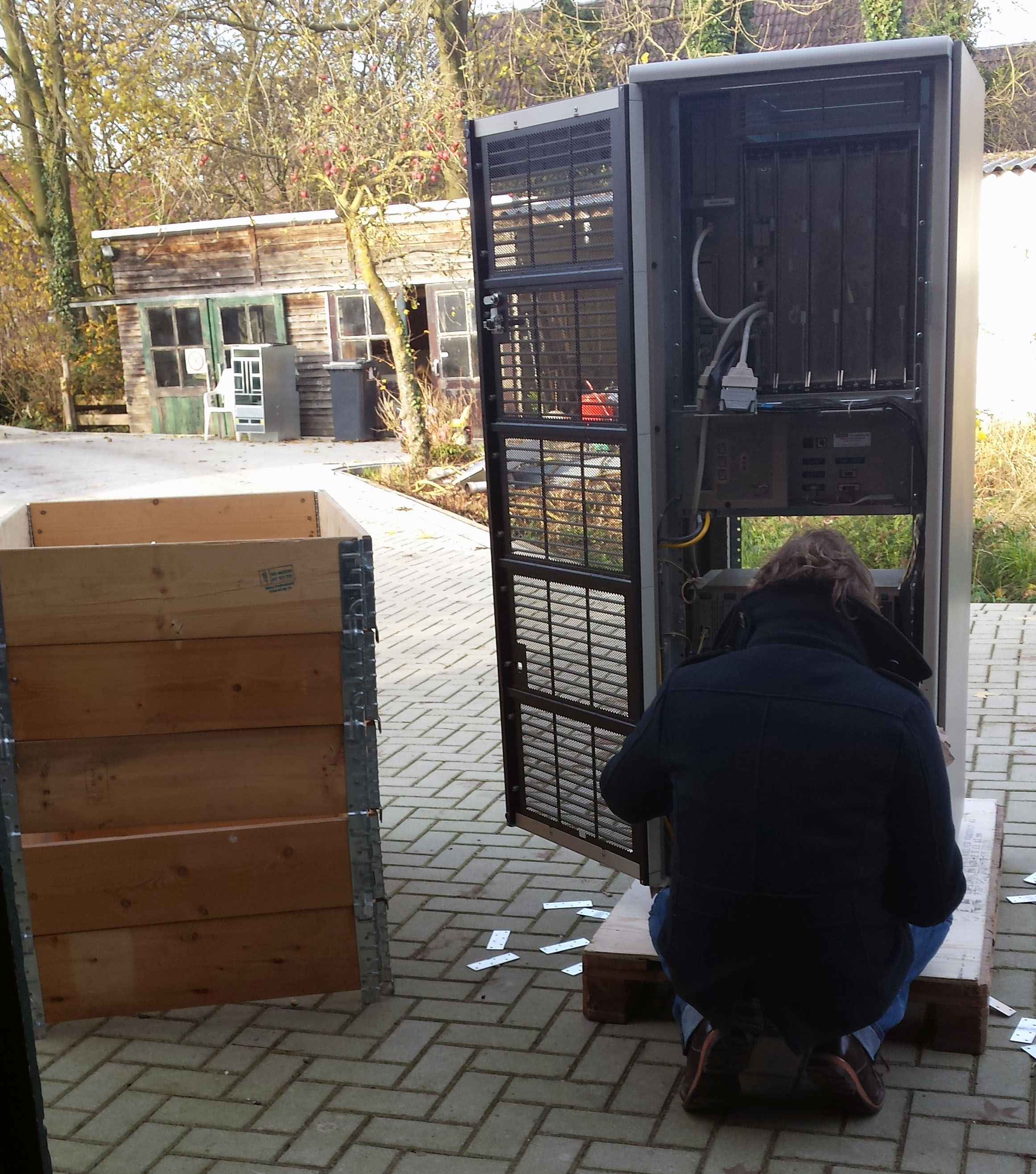 The DEC AlphaServer 8200 that Pontus Pihlgren sent to me has arrived today. It was very well packaged on a pallet. It took me about an hour to partially disassemble it to reduce the weight, get it off the pallet, bring it inside, and reassemble it.
Details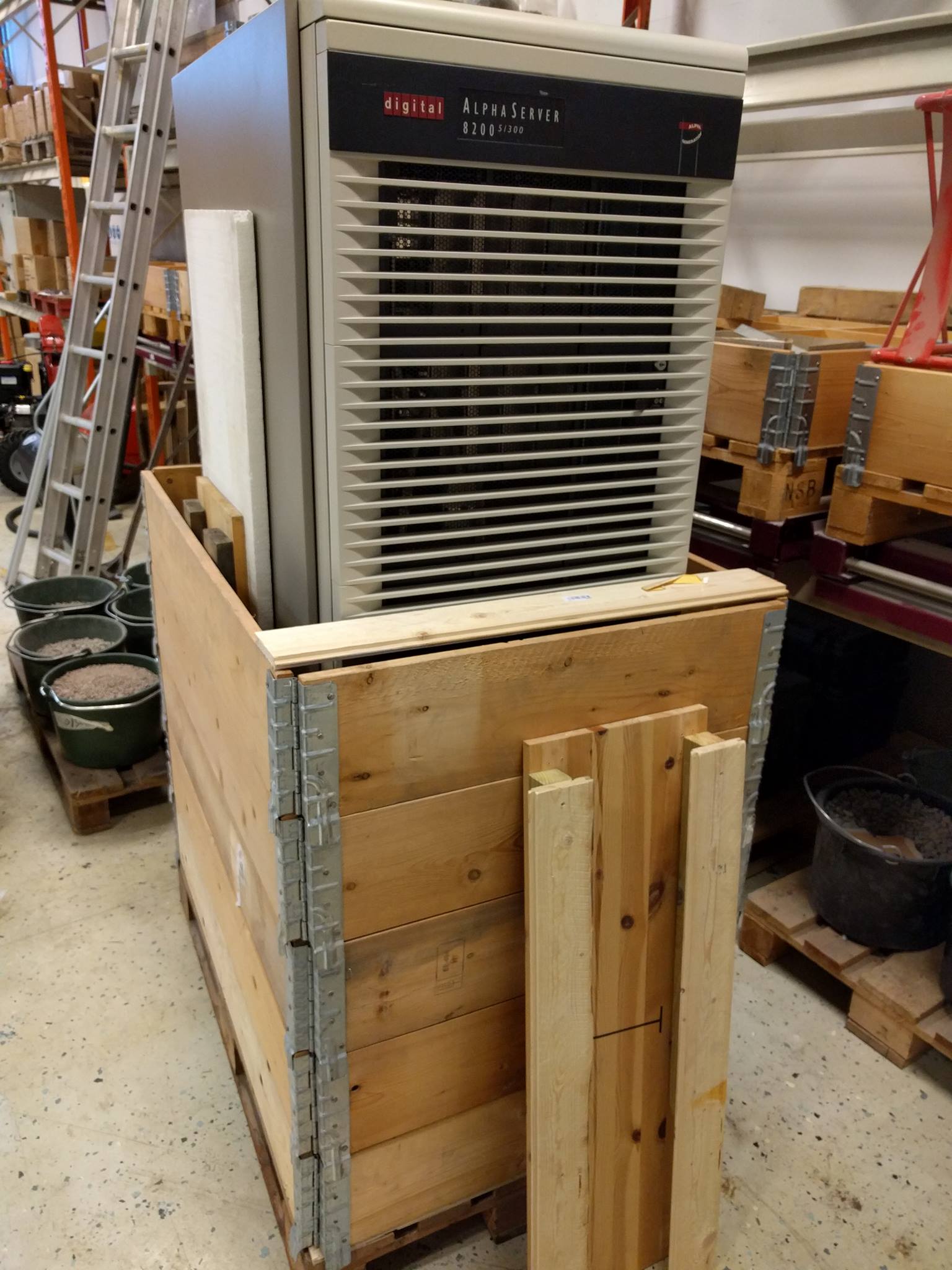 Today, my friend Pontus Pihlgren, from Uppsala, Sweden, started packing and preparing to ship a DEC AlphaServer 8200 and two DEC 4000 AXPs to me.
Details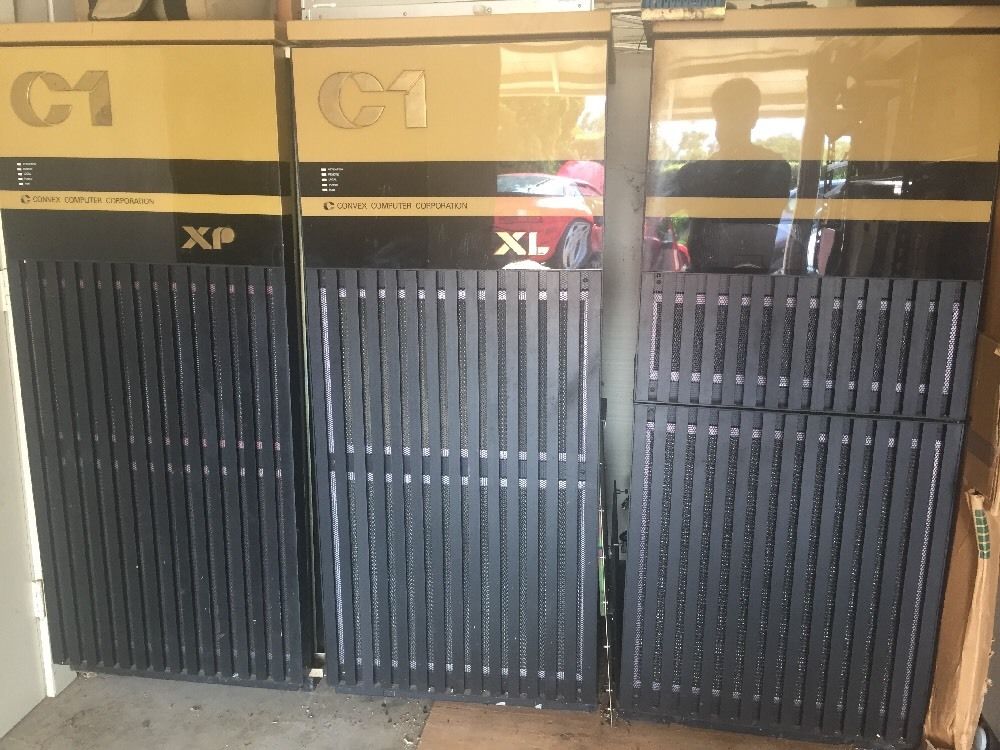 ** Updated on February 7, 2017 ** Hopefully, if all goes well, I will soon be the owner of four 1980's (mini-)supercomputers, which have been donated by a professor at Stanford University. I've had a shipping company collect and crate these, they've been shipped across the Atlantic, and are currently sitting in a warehouse in Rotterdam. They've just cleared customs, I paid the duties and import fees, and am now awaiting word on the delivery date.
Details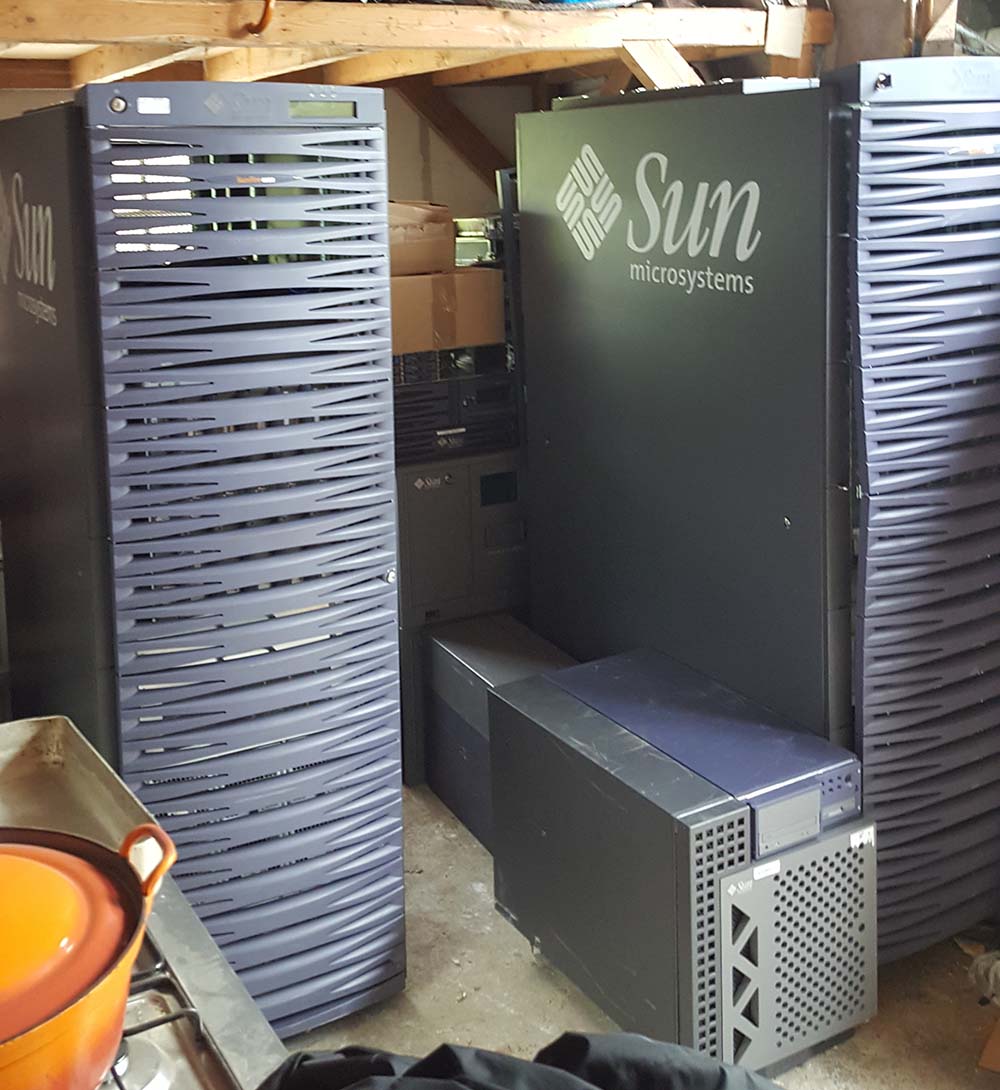 Through one of the mailing lists I subscribe to, I learned of an insurance company in the German city of Düsseldorf - about an hour and a half from where I live - that was about to throw away some serious Sun systems.
Details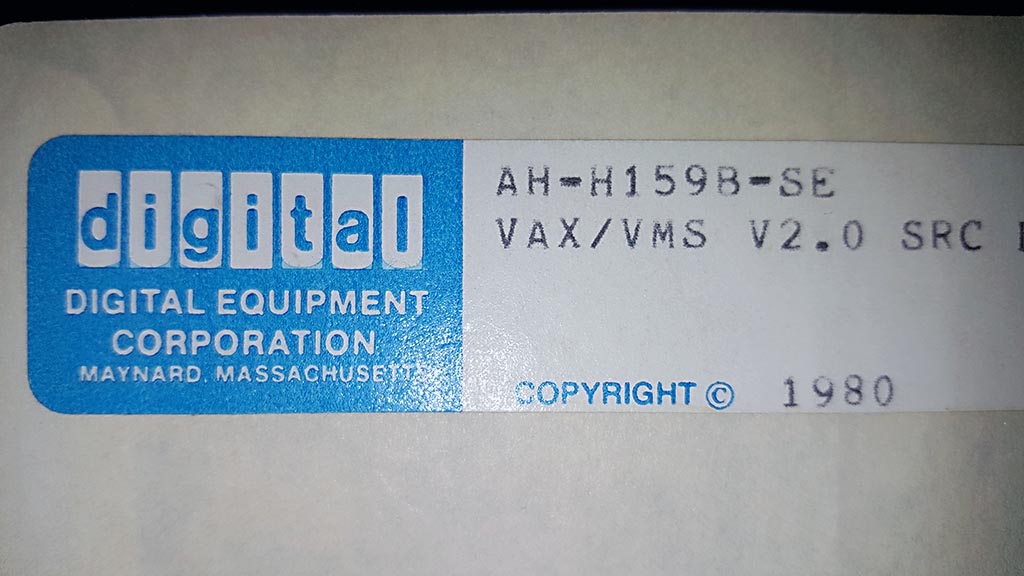 Yesterday I said goodbye to my colleagues at JKP, a Dutch IT services complany where I've worked part time for the last two years. If you're looking for someone to take care of your OpenVMS, HP-UX or Storage systems management needs in the Netherlands, check out www.jkp-ictbeheer.nl.
On this occasion, one of my (now former) colleagues, an ex-DEC service engineer, presented me with some very nice microfiche: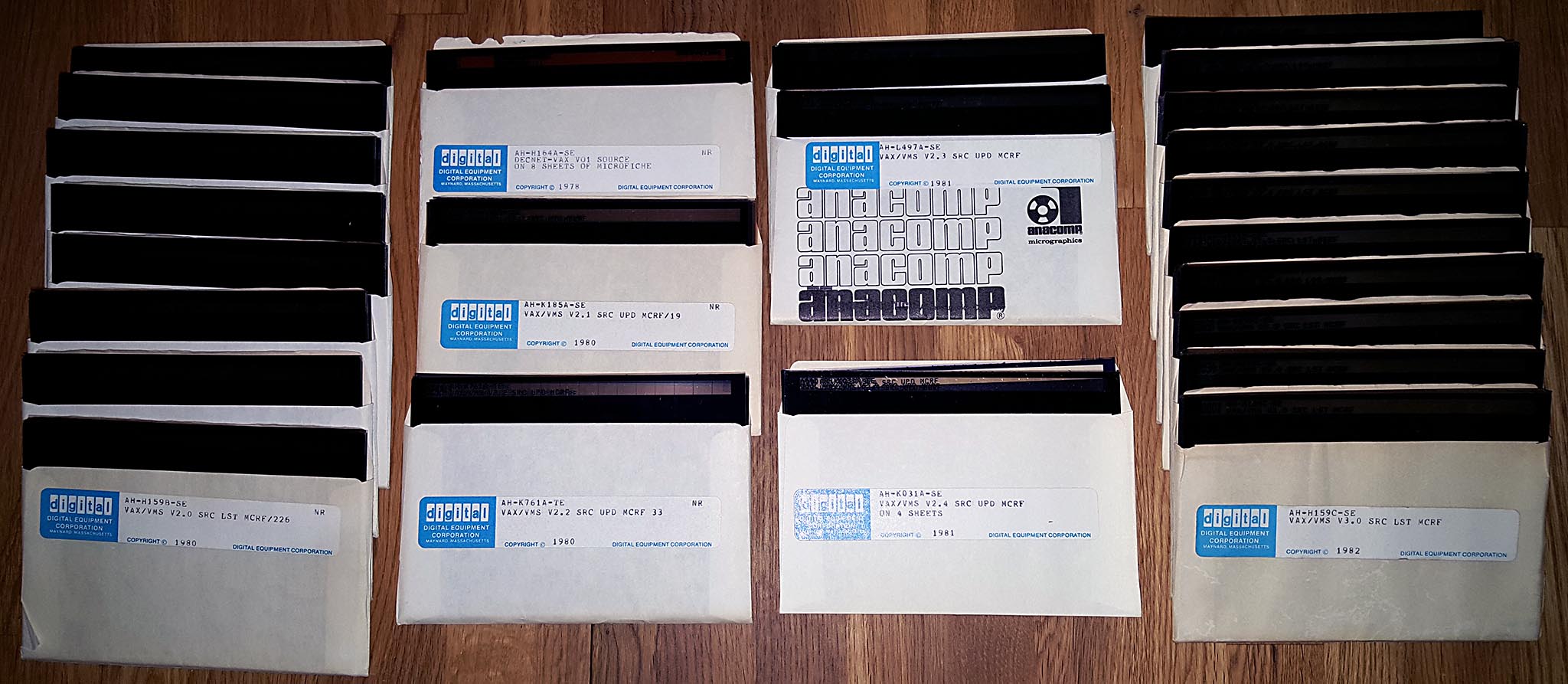 These are the source listings for VAX/VMS 2.0, 2.1, 2.2, 2.3, 2.4 and 3.0, as well as DECnet-VAX 1.0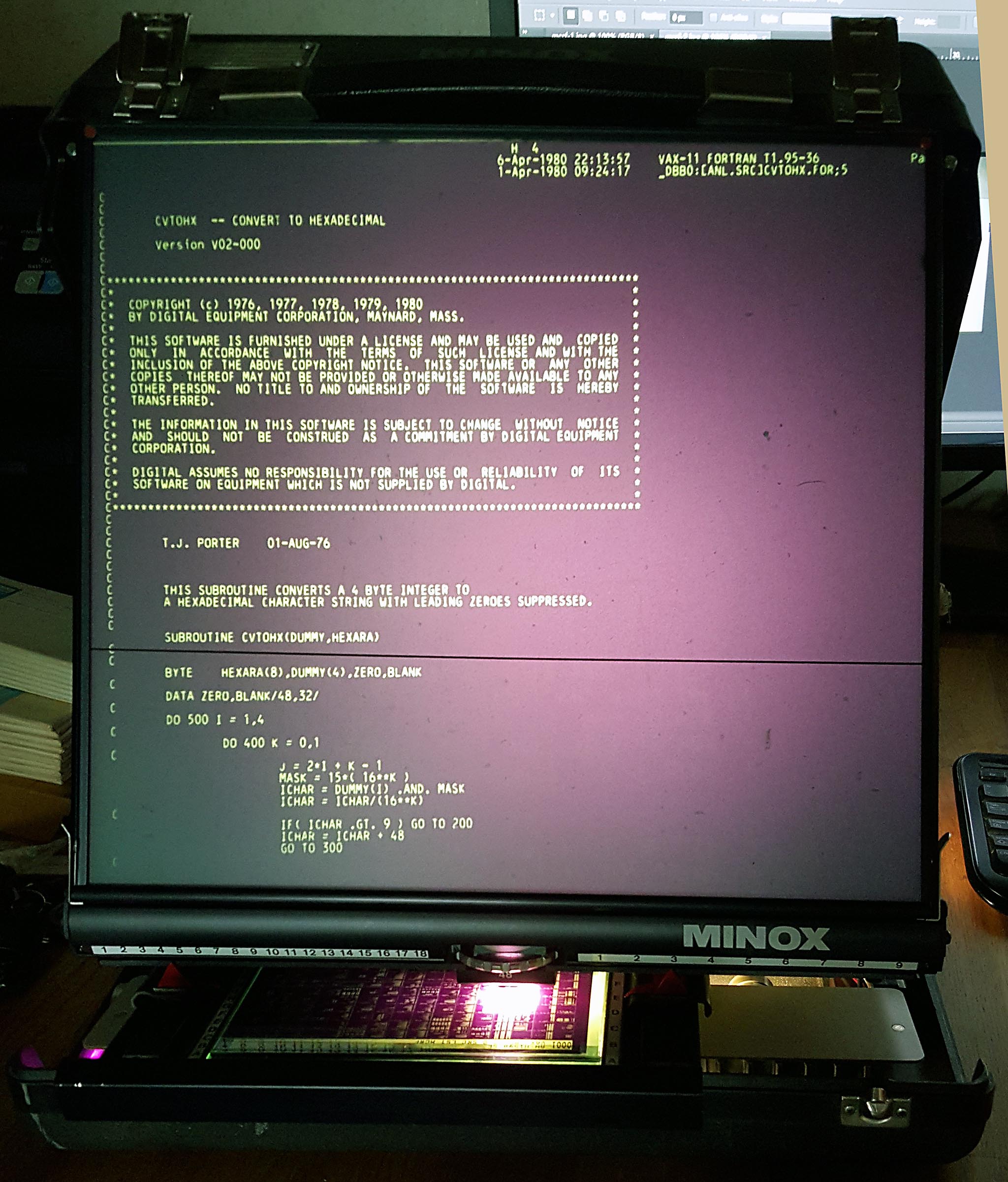 Fortunately, I also have the necessary equipment to read these microfiche. Thank you very much for a wonderful present, Rien!
Details
This past weekend, my wife and I, along with my brother and sister in law, paid a three-day visit to the city of Berlin. Although we spent most of our time there sightseeing, the direct occasion for our trip was that I had been offered an IBM I/O Selectric model 731.
About half a year ago, I had received a tip from my friend Dr. Bernd Ulmann, that a retiree of the Technical University of Berlin, Dipl.-Ing. Wolfgang Mahnfitz, wanted to find a good home for his IBM 731. After some e-mail conversation, in which I explained my intended use (as a console typewriter for my emulated IBM 360/65), he agreed to give the machine to me. We spent a short, but pleasant, time with Wolfgang and his wife, Ingrid, and I went home with not just the 731, but, as an added bonus, I got to take a character drum from an ICT (ICL) 1933 printer with me.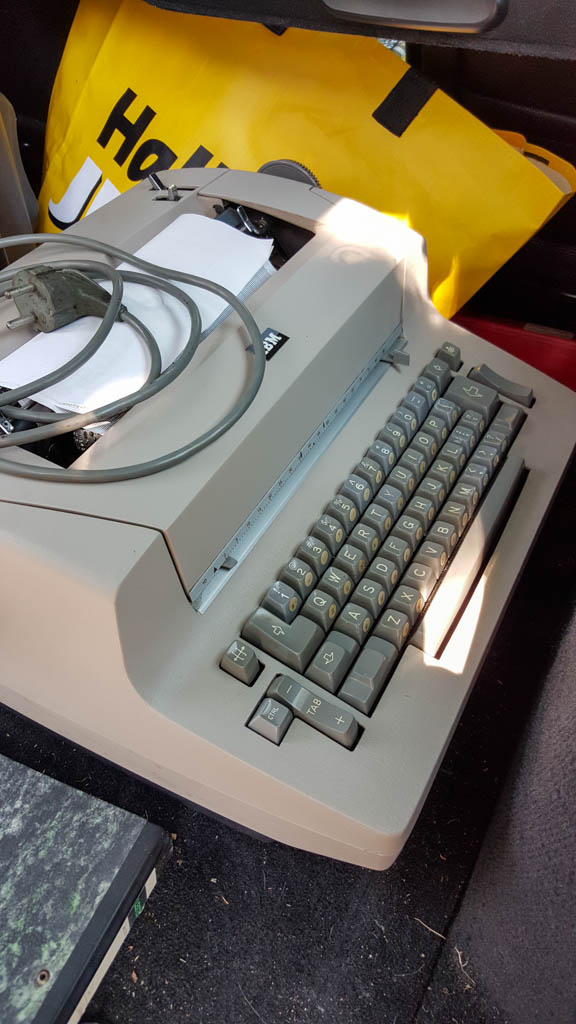 The 731, shown in the trunk of our car above, was used as a replacement for the console terminal on a Zuse Z-25 computer at TU-Berlin.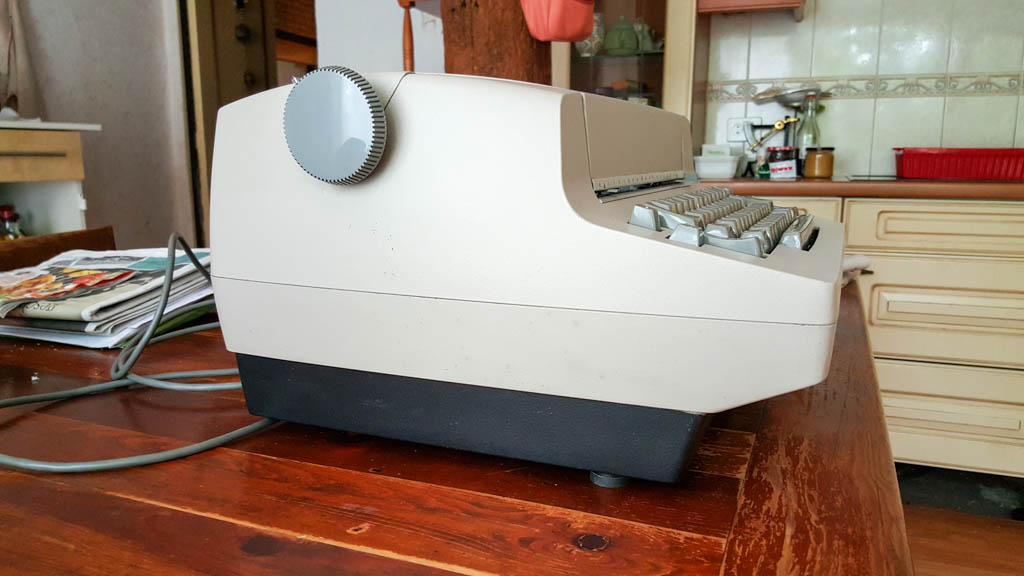 The picture above shows the added height (black part at the bottom of the machine) required for the switches and solenoids.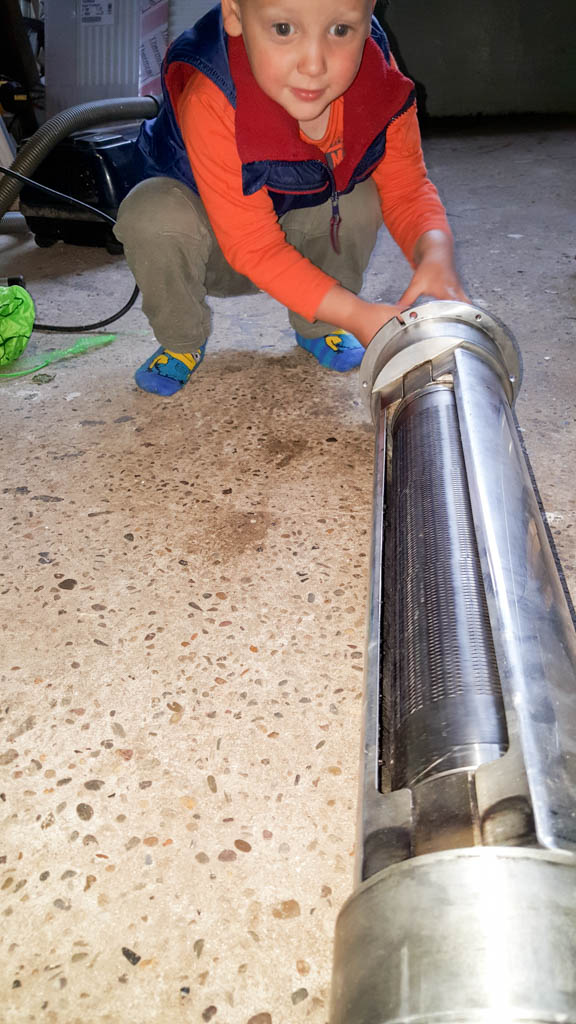 The ICT/ICL drum comes from a model 1933 line printer, capable of printing 1350 lines per minute, that was used with an ICT 1909 computer at TU-Berlin.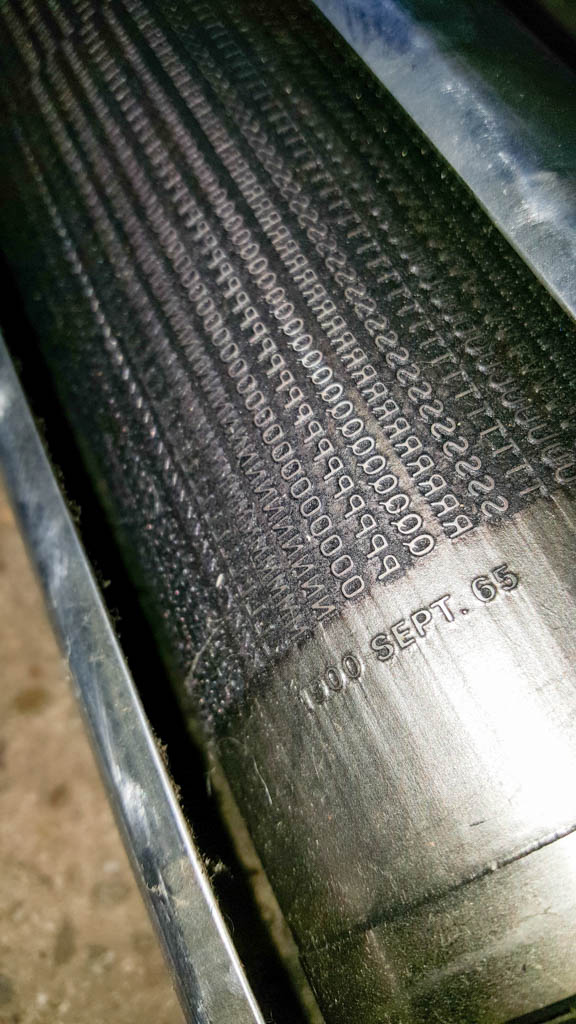 Details
Today me and my brother (truck driving license, no interest in old iron) had the biggest haul of DEC stuff I ever had (ex-collector moving to a smaller apartment).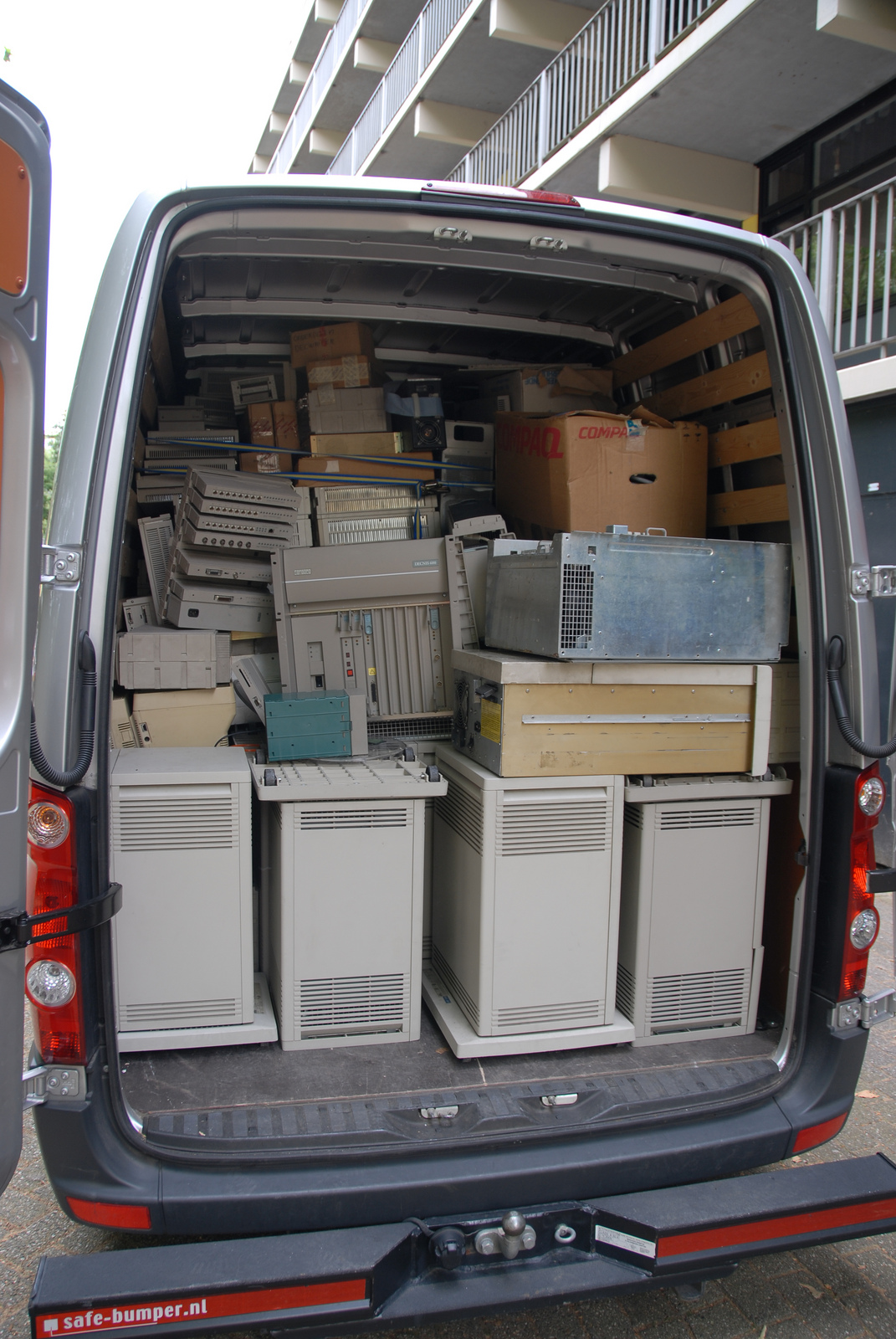 A quick inventory:
PDP stuff
VAX stuff
BA123 VAXen
BA213, BA215 and BA440 VAXen (pedestal)
BA42 VAXen
BA40 VAXen
MIPS stuff
Alpha stuff
Storage
2 x HSZ40
28 x StorageWorks BA350
16 x StorageWorks BA353
8 x R400X storage pedestal
4 x R215F storage pedestal
32 x pizzabox storage expansion (VAX-era)
11 x lunchbox storage expansion (VAX-era)
Terminals
Various VT's (220, 320, 420, etc.)
Miscellaneous stuff
DEC VAXmate PC500 w/RCD31 expansion box
DEC DECnis 600 w/ DNSAN, DNSAM,W614/618,L602
Lots of DEChub stuff
Lots of manuals, cables, spare cards, spare disks, etc...
TU58
Cipher M995S 1/2" 9-track tapedrive
DEC TSZ07 1/2" 9-track SCSI tapedrive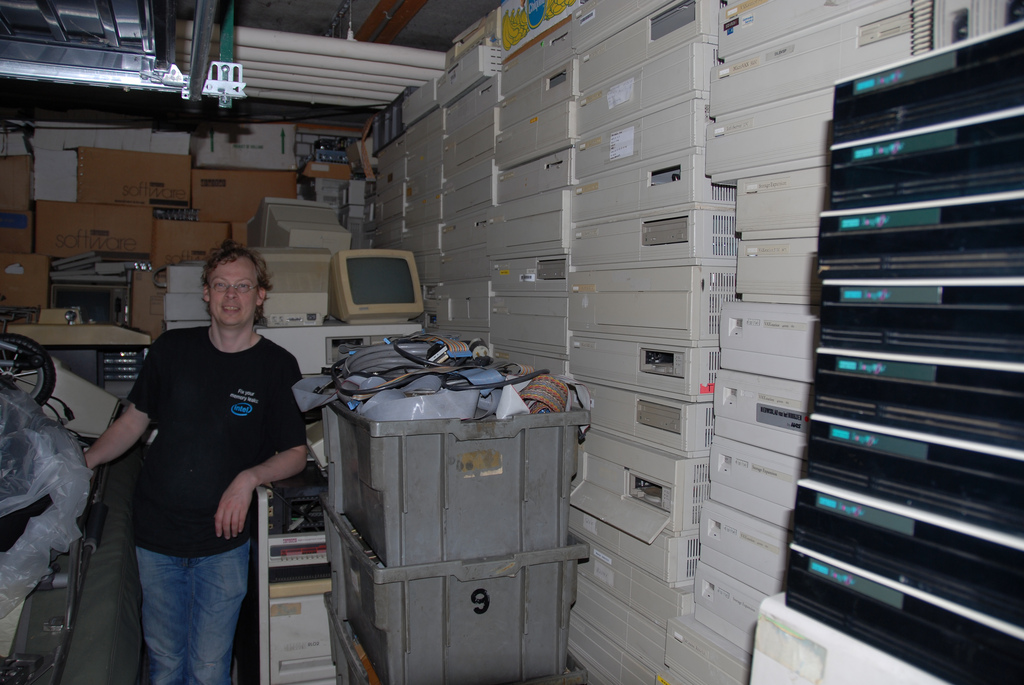 As you can see, all this has made me very happy!
Details
I picked up a Nova-4 mini at an auction. Just the CPU box, no peripherals.
Part numbers:
Chassis : M0061411 D1882 P T005 12080 R67
NVR Supply : E0470375 D0882 P A005 12074 R26 T005 12429 R30
Backplane : E0502539 D1282 P A005 12072 R10 T005 12073 R10
0 - Supply : E0526152 D1682 P A005 12062 R48 T005 18878 R00
1 - CPU : E0471713
2 - RAM : E0752855
3 - DIABLO: Rianda Electronics Assy No 020000-21H Diablo Disk Controller
5 - SERIAL: E0859602 D0683 P A005 2041 R16 T005 3523 R10
10 - TAPE : Western Peripherals TC120 Mag Tape Controller
12 - SERL : LV0010629 D3883 P A2041 R16 T3523 R10
15 - SMD : ZETACO Model 295 Storage Module Disk Controller

It looks like the CPU and RAM have most of their identification codes cut off.

On the back of the backplane, the following connections are made:
1 - console port
2 - A-Side and B-Side terminators
3 - Two wide ribbon connectors ending in a 50-pin MRAC connector.
There's a hand-written label attached that reads:
Rianda Electronics
AC020075-002X-06
DIABLO SEP 85
5 - 20 pin card edge connector, 5 wires connected (A81, A85, B54, B69, B99 as far as I can tell)
10 - 1 50-pin card-edge connector and 2 26-pin card edge connectors
12 - same as 5
15 - none, the ZETACO has its connectors on the front of the card
16 - two large connectors going to a 100-pin card edge connector.
There is a card that fits this with a hand-written label that reads:
879-0066-000A
Terminator
I/O Board
Rev. A - Term. I/O - 6
5-16-83
On the A-side of the backplane there are some wire-wrap connections
on pins 93-96:
4 : A94 - 5 : A94
4 : A96 - 5 : A96
5 : A93 - 9 : A93
5 : A95 - 9 : A95
11 : A94 - 12 : A94
11 : A96 - 12 : A96
12 : A93 - 14 : A93
12 : A95 - 14 : A95
Details
I won an eBay auction for three Philips P800 family minis with three cartridge disc drives, disc cartridges, lots of spare parts, and manuals including schematics. All for the incredible sum of 10 euros 75.
I saw the auction when it had 11 minutes left to go while I was on vacation (I'm a bit of an eBay junkie, although deals like this are becoming rare).
Inventory
P856/P857 CPU box (blinkenlights w/toggle switches
3 x P858/P859 CPU box (hex keypad with fluorescent display)
2 x E2 6-slot expansion card cage
Boards:

4522 107 62304 (unknown)
5 x AMA-8A: Asynchronous line multiplexer
2 x BIGD: Big disk controller (40/80MB CDC)
2 x BIGD2A : Big disk controller
4 x CDD Cartridge disk drive controller (X1215/X1216)
2 x CP7R : P857R CPU for P858,P859 (2900 bitslice technology)
3 x CP7RA : P857R/A CPU for P858,P859 (2900 bitslice technology)
2 x CPB: P856 CPU (74181 ALU based)
CP7B: P857 CPU? (754181 ALU based)
CU-ADIOS (unknown)
4 x F1MB: 8"  Floppy disk controller (modified for 5.25")
3 x F1MB: 8" Floppy disk controller
F1MBY: Floppy disk controller
FLDB (unknown)
GPC: Custom card in point-to-point wiring technique
HLVCUB (Synchronous comunications card? Has 2 N8X300 microcontrollers on it, 2 SCN2652A serial controllers, and 2 26-pin connectors)
2 x IOP: I/O Processor
K7S2: P833-152 Cassette Control Unit
5 x M128E: 128Kx21 RAM
2 x M128ES: 128Kx21 RAM
6 x MCU2: Line printer, card reader control unit
5 x MCU3: Paper tape, serial control unit (partially populated)
2 x MCU3: Paper tape, serial control unit (fully populated)
MMU: Memory Management Unit
3 x MTCU: Pertec 9 track magnetic tape control unit
2 x MX (unknown)
SLCU2: Synchronous serial line control unit
TIMER CARD (unknown)

1 x P833 triple cassette drive
5 x Cassette drive
2 x P830-010 dual 8" disk drive enclosure
2 x CDC BR8A8A 8" floppy disk drive
3 x X1215 2.5MB cartridge disk drive.
23 x 14" disc cartridge, labels:

DOM_HARRY OLDREL
old sources of release 01-10-8
DOM 210 & 211 for X1215
update P800 testprograms
27-09-'84 R.v.d.Heyden
DOM 811 adr/02 intr/11
terminal adr/10 intr/6
update test programs 27-09-84
IPL/65C2
X1215 IPL 63C2
Testprograms update 85-12-18
DOM9A/02 IT/10, DOM9C/02 IT/11
Userid: SDAPRO
s:$load (for running testprograms)
X1216 IPL 63C2
Test programs update 85-12-18
-DOM9 A/02 IT/10 FL/03 IT/11
Userid: SDAPRO
s:$LOAD
CPU ISCOS 70
4022 250 0004.1
PAB nr 8122 141 0470.1
BD83
Graphics 8P-A
4022 226 3470.1
PAB nr 8122 141 0286.1
BD58
VIP V12
4311 027 1629.1
PAB nr 8122 141 0277.1
BD51
Ext Mem Mod 286
4022 226 2340.1
PAB nr 8122 141 0456.1
BD82
TP00 Test Pack
TEST TP1
R=0002
Service pack 1
various programmes
SAG3 KERNEL 3 MULTIBASIC
TRAINING 004
P.H.Kraaijeveld
DISK Unit 1
P800 (X1215)
LAB Backup
FPP KENIA
4 x PHILIPS unlabeled
2 x CDC unlabeled
1 x MEMOREX unlabeled

13 8" Floppy Disks, labeled:

Tools : (LP)
IPL ADDR: 60C5
Monitor: type (?)
Rotterdam test system 29-03-'84
T. Wilders
Test Software S.M.
BMEX0 in TSWCOM module
User: BMEX Start: $RUN
Very Special
Utilities R1.0 83-06-01
P5011
SYS
User: PRK300
ASG 1E0,DK,PRECDC
Userid: TOOL Date 84.03.26
:BASIC
Address of FL-Drives=03!!!
CP101 83.11.25
Userid: SYS
RT Floppy
$TDES
Label: CP101 Date 84.01.10
Userid: LUC
RS740 MAGAZIJN
BASIC
RUN "I"
RS747 CARD CATALOG
BASIC I
RS775
CPU P857EB
EPS 811118
RS776
CP7R

Some boxes with spare parts
Cables
16 Binders with manuals. It looks like there are some duplicates. My intention is to scan all of it for contribution to bitsavers:

P851M Volume 1 Central Processor & Memories Technical Manual (2x)
P851M Volume 2 Control Units Technical Manual (3x)
Preliminary P800M Interface And Installation Manual (P852M, P856M and P857M related) (2x)
P855M MIOS Drivers Users Guide
P856M/P857M CPU Service Manual
Reference manual P858, P859
Field Support Manual Extended Control Panel P858
Field support manual P859 Rack (M4R) & Power Supply
Field Support Manual Flexible Disc Control Unit (F1MZ) P830-150 PTS6751-002 Equipment Shelf P830-010 (2x)
Field Support Manual Flexible Disc Control Units F1MZA P830-150 PTS6751-002 F1MZ06 PTS6751-510 Equipment Shelf P830-010
Field Support Manual Flexible Disc Control Units MIFZ PTS6751-103
Field Support Manual Flexible Disc Control Units F1MB P830-050 PTS6849 F1MB06 PTS6849-501 Equipment Shelf P830-010
Field Support Manual Flexible Disc Drive 1M P830-025 PTS6791 P4500-035 P300
Preliminary X1215/16 Cartridge Disk Drive Unit
X1215 Cartridge Disk Drive Unit
Service Manual Flexible Disc Drive P830-015 PTS6867 PTS8861
Service Manual Flexible Disc Drive P3431 P830-005
Service Manual Flexible Disc Drive P3431 P830-006
Field Support Manual Control Unit For Serial Data Transfer (SCUZ) P845-140 PTS6859
Field Support Manual Synchronous/A-Synchronous Line Control Unit (SALCU-Z) P845-160 PTS6857 PTS8857
Field Support Manual Synchronous/A-Synchronous Line Control Unit (SALCU-Z) P845-160 PTS6857
Field Support Manual A-Synchronous Medium Speed Data Line Multiplexor (AMA8A) V24/V28 Interface P845-060
Field Support Manual A-Synchronous Medium Speed Data Line Multiplexor (AMA8C) TTL/Current Loop Interface P845-070
Field Support Manual Asynchronous Medium Speed Line Multiplexor Type Z (AMA4Z) P845-180 / Type V (AMA4V) PTS6741-001
Field Support Manual Multiple Asynchronous Control Unit (ASCU4Z) P845-145 PTS8853
Field Support Manual Central Processor Unit (P857EB) P854 PTS6925
Field Support Manual Central Processor Unit (CP1A) P853
Field Support Manual P853/P854 Racks (6U6/6U12) & Power Supplies
Field Support Manual P843-500/PTS8890-001
Field Support Manual Hand Held Control Panel P843-500/PTS8890-001
Field Support Manual Digital Extended Control Panel P843-510
Field Support Manual P843-120 Input/Output Processor (IOPZR)
Field Support Manual Eprom/Prom 16K Words Memory P851M-010 (2x)
Field Support Manual Reprogrammable Read Only Memory P851M-006 (1K) P851M-007 (2K) P851M-008 (4K)
Field Support Manual Dynamic Ram Memory 32K/64K (GMB1) P851M-016:16K/16 P851M-017:32K/16 PTS8221
Field Support Manual UPL Master Slave Memory 1M8 P4500-026/027 PTS8823
Field Support Manual MOS Memory Module 128K16 (WMD-16/27MC) P4000-24 PTS6773 P843-608
Field Support Manual P4000-24 (WMD) MOS Memory Module 128K16
Memory Test Program BBRAM applicable to semiconductor memories greater than 32KW
Test Program for CPU P854,P858,P859,CP1BF Test Of Memory Management Part REMMU1
Test Program for CPU P854,P858,P859 Test Of Page Fault Test Of Automatic Restart REPAF
Test Program for CPU P854,P858,P859,CP1BF Test Of Instruction Set CP57RE
FPPE Test Program EFPP1 Applicable To Floating Point Processor
Test Program For CP1BF,CP2B Test Of Memory Management Part MMU2B
Test Program For CP1BF,CP2B Test Of Page Fault Test Of Automatic Restart PAF2B
Test Program Release Notice Number 245
Binder "P800 Test Programs" with handwritten and typewritten test descriptions (Floppy, Pertec MTT, X/2/5, PTP, FHD, X1210, LP, CPU + OPTIONS, Cassette, Datacom, MIOS)
Details
You are here:  

CDC Cyber 170-720